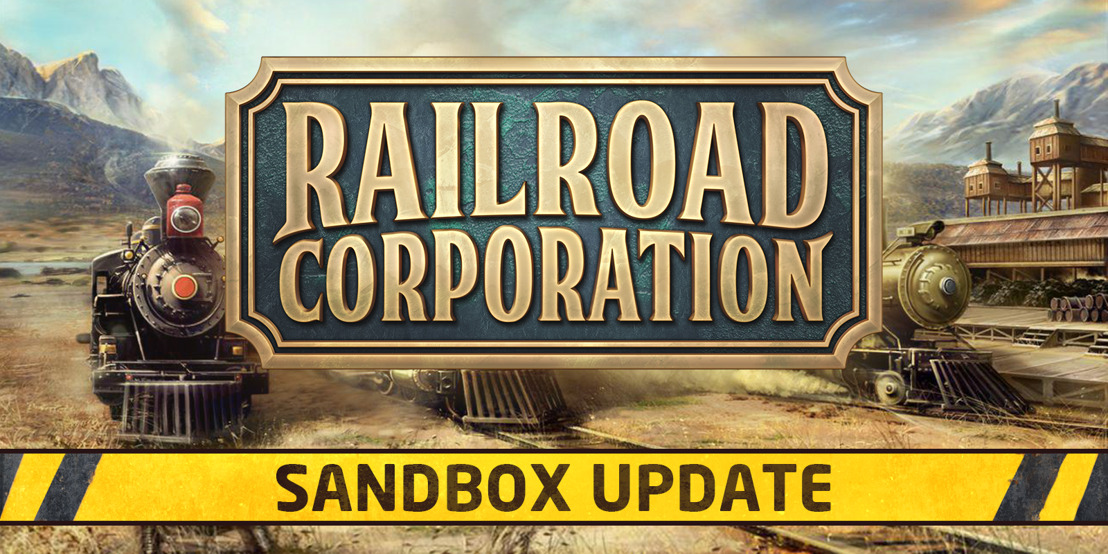 Train tycoon game 'Railroad Corporation' gets new sandbox mode
Experiment without timers or objectives in brand new gameplay mode
Haarlem, the Netherlands: Developer Corbie Games and indie publisher Iceberg Interactive are happy to announce the first major update to train tycoon strategy game Railroad Corporation, currently available through Steam's Early Access program.
The new update will appeal to players wishing to fully focus on expanding their train network and growing their corporation, by featuring a sandbox mode.
In the sandbox mode, players can:
Play two new sandbox-only maps with extra settings, such as random city locations and random production buildings.

Choose between starting the game with the 'Best Friend' locomotive or by having everything researched.

Enable or disable contract generation, the buying or constructing of production buildings and laws spawning on and off.
In addition to the sandbox mode, players now have the option of playing previously finished campaign missions in sandbox mode. This means that players can:
Enjoy the same missions as in the campaign but without deadlines, overdraft limits or objectives.

Play the missions without any prior research or portfolio progression being carried forward into subsequent missions.
The update also brings with it some multiplayer tweaks, such as an alternative scenario for the current multiplayer map with an extended goal, a starting capital of $200k and two pre-researched locomotives.
ABOUT RAILROAD CORPORATION
Begin your career as an ambitious employee of a 19th century railroad company, in the Golden Age of Steam. Manage the business by obeying the directions of your bosses. Build railroads, tunnels and bridges to towns and cities, old and new, and decide how to use the railroad to the best advantage of the company. Marvel at the stunningly beautiful scenery that you must blast, dig and tunnel through – nothing must stop the railroad! If you excel, you will get the chance to set up your own railroad corporation, build up the local economy and earn your fortune in the New World. In order to be the very best, you must involve yourself in every aspect of your railroad empire: making new investment decisions, lobbying politicians, managing the global resources of your business empire, and constantly looking over your shoulder at the competition.
For all supporting assets, including the new video and the latest screenshots, please check out the press kit. For preview keys, please send an email to pr@iceberg-games.com.
Stay up-to-date with the latest Railroad Corporation news and information:
Official Website, Facebook, Twitter, Reddit, YouTube, Discord
Media Contact:
Shona Fridh
PR Manager, Iceberg Interactive
+31(0)235430960
ABOUT ICEBERG INTERACTIVE
Iceberg Interactive is an independent video game publisher founded in 2009 by an international group of games industry veterans. Located in Haarlem, The Netherlands and staffed with avid gamers, Iceberg works closely with an assembly of game developers around the world, both midsize and indie.
Known for many hit franchises including Starpoint Gemini, Killing Floor and Stardrive; the company has enjoyed recent success with titles such as Starpoint Gemini Warlords (PC), Oriental Empires (PC) and Circle Empires (PC). Iceberg Interactive has many more exciting games coming soon, including Antigraviator (PS4/XBO), The Sojourn (PC/PS4/XBO), Headsnatchers (PC/PS4), Gas Guzzlers Extreme (PS4) and Pax Nova (PC).
To learn more, please visit www.iceberg-games.com.
Iceberg Interactive
pr@iceberg-games.com / +31 (0)23 54 30 960
Belgiëlaan 63G, 2034 AW, Haarlem, The Netherlands