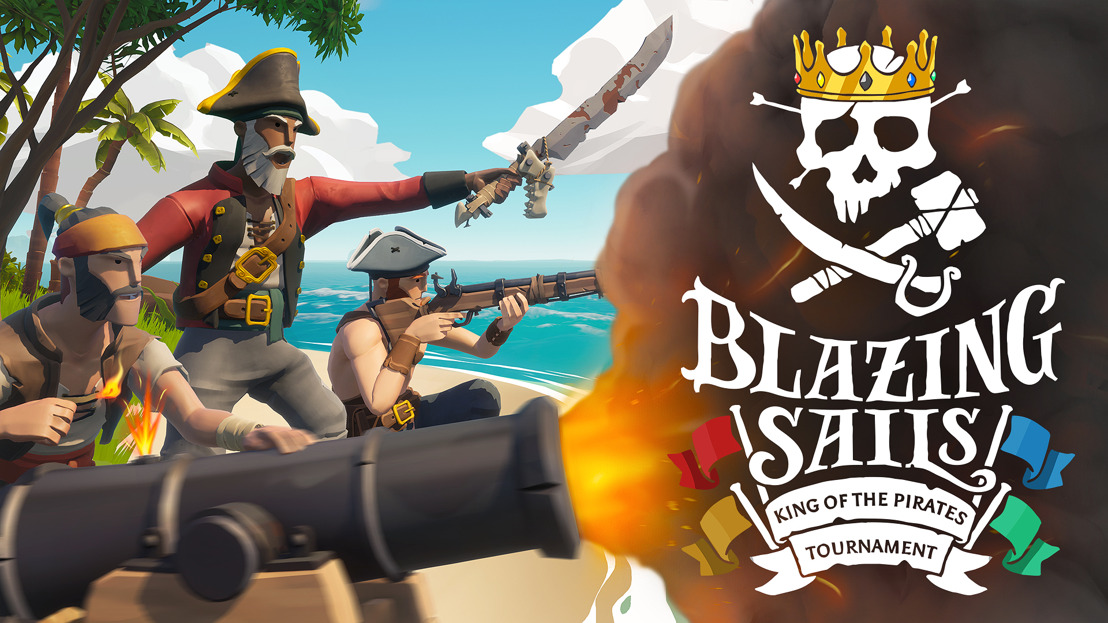 THIS WEEKEND! Twitch Tournament + Discount for Pirate Battle Royale Blazing Sails
The First King of the Pirates Shall Be Crowned!
Publisher Iceberg Interactive and developers Get Up Games are excited to host the first official tournament for Blazing Sails Pirate Battle Royale this weekend!
10 top Twitch streamers will captain teams of three players each in a knock-out tournament. The winning captain will be crowned the first ever King of the Pirates - and their team will forever be enshrined within the game itself.
We're also having a special 25% discount on the game via Steam all week - so you can get in on the fun for yourself as well!
There will also be a television highlights special courtesy of our official broadcast partners GINX Esports TV - follow them on Twitter to find out exactly when and where!
Starts Saturday March 13th - 09:00 PST / 12:00 EST / 18:00 CET
Follow all 10 captains on Twitch to watch the action LIVE!
ABOUT BLAZING SAILS
Prepare for fast-paced, PvP action on the high seas across public or private servers, a fully customisable character and ship, intense melee or ranged combat and much, much more.
In Blazing Sails, you'll create your own unique pirate and ship. Band together with other players to command your mighty vessel. Navigate land and sea for loot, resources, unique weapons and ship upgrades. Sink every other ship to win the skirmish!
Blazing Sails is available now in Early Access on PC via Steam for $14.99 - and you can check out all our games on the Iceberg Interactive publisher page!
The press kit for Blazing Sails: Pirate Battle Royale can be found here.
Don't be a stranger! Stay up to date with Blazing Sails here:
Website / Twitter / Facebook / YouTube / Discord
ABOUT GET UP GAMES
Get Up Games is an independent game studio based in Waarschoot, Belgium. By being gamers themselves, researching games and modifying them, all 5 members are true experts in their craft. By combining knowhow, technical skills and creative thinking Get Up Games is all about making long lasting great gameplay that everyone can enjoy.
ABOUT GINX ESPORTS TV
GINX Esports TV is the first and largest TV network dedicated to esports. GINX provides a unique experience on TV, offering an inside perspective on the different esports scenes, both established and still growing.  With GINX Esports TV, find out more about your favourite games and players through exclusive docu-series, tutorials or news shows and follow the best tournaments live wherever you are.
ABOUT ICEBERG INTERACTIVE
Iceberg Interactive is an independent video game publisher founded in 2009 by an international group of games industry veterans. Located in Haarlem, The Netherlands and staffed with avid gamers, Iceberg works closely with an assembly of game developers around the world, both midsize and indie.
Known for many hit franchises including Starpoint Gemini, Killing Floor and Circle Empires; the company has enjoyed recent success with PC titles such as Shortest Trip to Earth, The Sojourn and Railroad Corporation. Iceberg Interactive has many exciting multi-format games coming up, including Transient (XBO/PS4), Star Dynasties (PC) and Sacred Fire (PC).
To learn more, please visit www.iceberg-games.com.