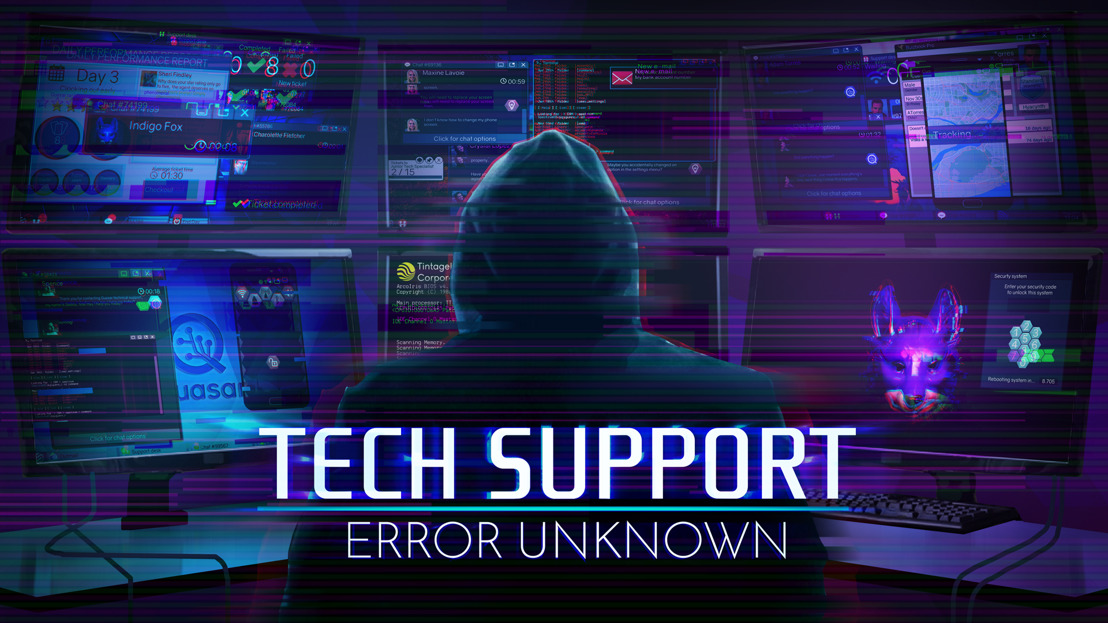 TECH SUPPORT: ERROR UNKNOWN RELEASE DATE LEAKED
New trailer confirms February 27 launch on Steam
Haarlem, The Netherlands – January 29th, 2019 – Indie game publisher Iceberg Interactive and developer Dragon Slumber have officially announced today that Tech Support: Error Unknown will be launching for PC, Mac and Linux on February 27th, 2019 on Steam and major digital retailers. The news is supported with the reveal of a brand-new trailer and key art, which highlight the many choices you'll encounter during the game's branching narrative.
For media requests including developer interviews and review keys, please email pr@iceberg-games.com
The award-winning adventure (Best Indie Pitch, MIGS18) casts players as new-starters in the IT department of multinational corporation Quasar Telecommunications, which, you soon discover, does not appear to be it what it seems. From the Spectrum OS virtual desktop interface, you'll chat with customers and colleagues through an organic procedural dialogue system, solving puzzles and making discoveries and decisions that radically affect the eventual outcome. Will you serve the company, or sabotage it from within? Every choice matters.
The official announcement follows a long tug-of-war online between Quasar and Tech Support's hacker faction, Indigo. In the game, an alliance with the group is just one of many available paths to pursue, and on social media they've proven to be a serious problem.
Indigo first took over all Tech Support: Error Unknown channels on January 16th; where they posted a series of videos attacking the design and features of Quasar's Spectrum OS. The company regained control 5 days later, but were almost immediately taken down again on January 23rd – with Indigo publishing yet another video. The hacktivist's leader Indigo Fox appeared in-person to implore viewers to use Spectrum OS against Quasar when it becomes available – and dropped the release date for eager-eyed fans almost 1 week early.
Dragon Slumber's Kevin Giguère remarks;
The reception for the game thus far has completely blown me away, and I couldn't be more excited to get the full version in player's hands. Although I can't condone Indigo's vigilantism, I do believe that these allegations against Quasar should be reviewed under the due process of the law.
Eager applicants can try a free demo on Steam, Gamejolt or Itch.io for PC, Mac and Linux, join the Launch Day Live Stream through the Steam store page and wishlist the game to be notified as soon as the full version of Tech Support: Error Unknown is made available on February 27th 2019.
Supporting assets including new key art, trailers, screenshots and a fact sheet are available via the Tech Support: Error Unknown Press Kit.
Join the Tech Support: Error Unknown Community
Tech Support: Error Unknown Facebook
Tech Support: Error Unknown Official Website
Tech Support: Error Unknown Reddit
Dragon Slumber Official Website
Iceberg Interactive Official Website

Dragon Slumber is a Quebec-based indie studio founded in 2013 by Kevin Giguère, a programmer with over 20 years' experience. As of 2018, Dragon Slumber has released the JRPG Arelite Core, and the runner racer Astral Traveler for PC. Work is currently ongoing with Tech Support: Error Unknown, for a 2019 release. Dragon Slumber believes that great games begin with careful and innovative designs and always strives to provide unique experiences for gamers. Please visit www.dragonslumber.com for more information.

Iceberg Interactive is an independent video game publisher founded in 2009 by an international group of games industry veterans. Located in Haarlem, The Netherlands and staffed with avid gamers, Iceberg works closely with an assembly of game developers around the world, both midsize and indie.
Known for many hit franchises including Starpoint Gemini, Killing Floor and Stardrive; the company has enjoyed recent success with titles such as Starpoint Gemini Warlords (PC), Oriental Empires (PC) and Circle Empires (PC). Iceberg Interactive has many more exciting games coming soon, including Antigraviator (PS4/XBO), Conarium (PS4/XBO), The Sojourn (PC/PS4/XBO), Headsnatchers (PC/PS4), Gas Guzzlers Extreme (PS4), Pax Nova (PC), Tech Support: Error Unknown (PC) and Railroad Corporation (PC).
To learn more, please visit www.iceberg-games.com.
Iceberg Interactive
pr@iceberg-games.com / +31 (0)23 54 30 960
Belgiëlaan 63G, 2034 AW, Haarlem, The Netherlands
Website / Twitter / Facebook / LinkedIn / YouTube / Instagram