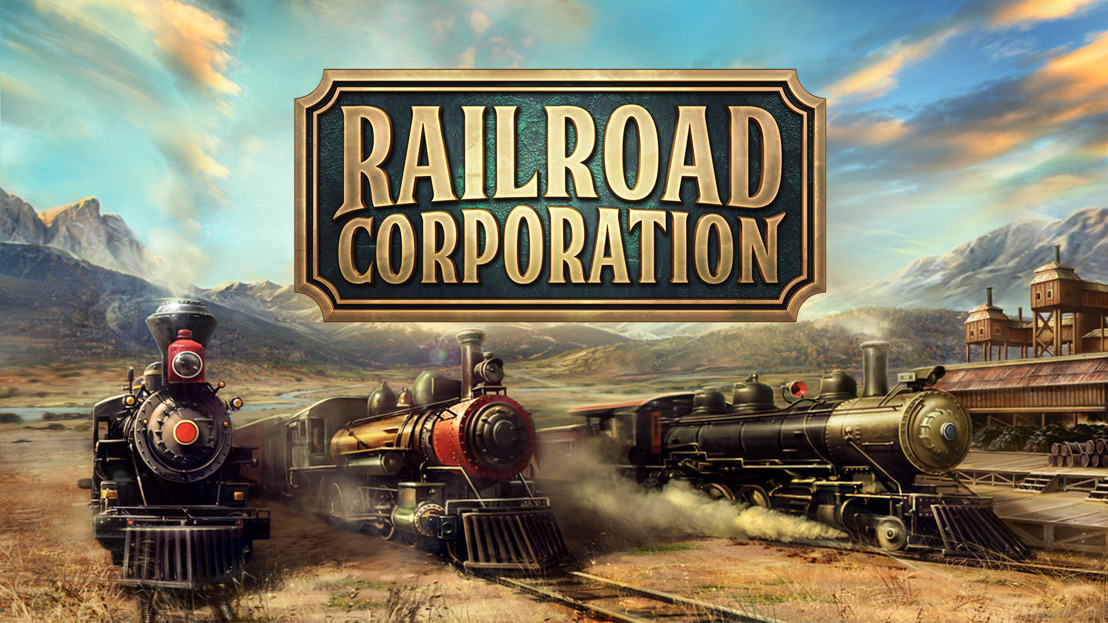 "RAILROAD CORPORATION" AVAILABLE TODAY ON EARLY ACCESS
Build the greatest train empire of 19th century North America.
Haarlem, The Netherlands – Publisher Iceberg Interactive and developer Corbie Games (Bounty Train) are thrilled to announce that train tycoon strategy game Railroad Corporation is available today through Steam's Early Access program. The Early Access price will be $29.99.
Check out Railroad Corporation's key features in the brand new video below:
Relive the pioneering spirit of the Golden Age of Steam by establishing your own railroad empire across 19th century North America. Race against time, and the competition, to bring settlements together, produce and trade goods and develop new technologies.
Embark on your dream career and earn your fortune in the New World. Work to fulfill contracts and complete missions based on historic rail networks across the United States. Lay down tracks, dig tunnels and raise bridges to connect settlements big and small, old and new. Strategy and forward planning are essential to make the best deals – so you'll need to be on top of every aspect of your organisation. Control and combine resources, establish new industries and even lobby politicians to change the law of the land.

Yurij Ishchuk, CEO at Corbie Games says:
"This is our second train thematic title, after Bounty Train. With Railroad Corporation, we wanted to shift the focus to economy and business so including the train enthusiasts community in the process of developing Railroad Corporation through Steam's Early Access will allow us to make a game that really adds something unique to the genre. We honestly can't wait."
Erik Schreuder, CEO at Iceberg Interactive on Railroad Corporation
"Having a game like Railroad Corporation in our portfolio is exciting because it is a game with a lot of features combined into one product. For instance, the beautiful scenery of 19th century America, combined with the extensive strategic possibilities of how to best run a corporation, as well as the vast world that is trains, makes Railroad Corporation a very impressive game".
For all supporting assets, including the new video and the latest screenshots, please check out the press kit. For preview keys, please send an email to pr@iceberg-games.com.
All images may be used for non-commercial purposes.
Stay up-to-date with the latest Railroad Corporation news and information:
Official Website, Facebook, Twitter, Reddit, YouTube
Media Contact:
Nefeli Gkoni
PR Manager, Iceberg Interactive
+31(0)235430960
ABOUT ICEBERG INTERACTIVE
Iceberg Interactive is an independent video game publisher founded in 2009 by an international group of games industry veterans. Located in Haarlem, The Netherlands and staffed with avid gamers, Iceberg works closely with an assembly of game developers around the world, both midsize and indie.
Known for many hit franchises including Starpoint Gemini, Killing Floor and Stardrive; the company has enjoyed recent success with titles such as Starpoint Gemini Warlords (PC), Oriental Empires (PC) and Circle Empires (PC). Iceberg Interactive has many more exciting games coming soon, including Antigraviator (PS4/XBO), The Sojourn (PC/PS4/XBO), Headsnatchers (PC/PS4), Gas Guzzlers Extreme (PS4) Pax Nova (PC) and Railroad Corporation (PC).
To learn more, please visit www.iceberg-games.com.
Iceberg Interactive
pr@iceberg-games.com / +31 (0)23 54 30 960
Belgiëlaan 63G, 2034 AW, Haarlem, The Netherlands
Website / Twitter / Facebook / LinkedIn / YouTube / Instagram