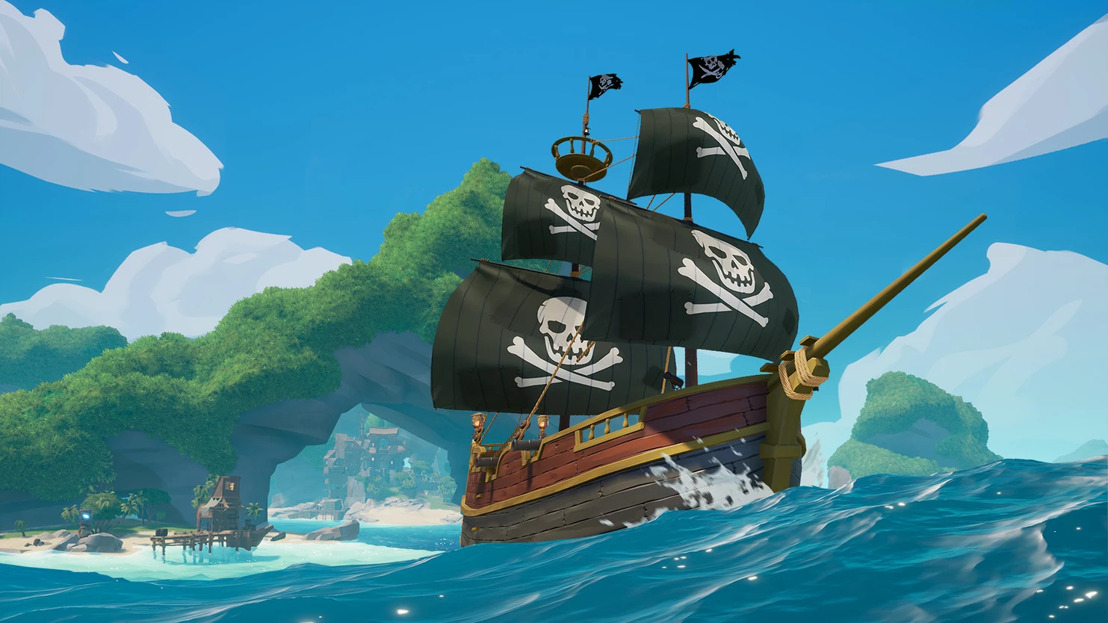 PIRATE BATTLE ROYALE GAME AND MORE ANNOUNCED BY ICEBERG INTERACTIVE AT PARIS GAMES WEEK 2019
12 games showcased in first ever 'Iceberg Ahead' special
Iceberg Interactive revealed new game trailers and release dates at Paris Games Week 2019 via the publisher's first 'Iceberg Ahead' broadcast event.
Hosted by Dan Maher (Inside Xbox) - the live show confirmed several November 2019 releases and offered a glimpse into the publisher's anticipated line-up for 2020.
Full Episode: https://youtu.be/GGWh94Z2p8k?t=1791
Media Assets: https://drive.google.com/open?id=10zNuX2nKtA-Unu2K31aLuN91Dgdr-lpY
We'd love it if you'd watch the 20-minute Iceberg Ahead-show via the above links, or even share the show as a whole! We've also gathered up all news per game in a convenient list, below:
Blazing Sails, developed by Get Up Games
Fight for survival in Blazing Sails, a pirate battle royale game! Create your own unique pirate and ship. Band together with other players to command your mighty vessel! Navigate land and sea for loot, resources, unique weapons and ship upgrades. Sink every other ship to win the skirmish!
Trailer: https://youtu.be/QktYvk2of74
Release: Early 2020 (Early Access)
Platforms: PC (Windows)
Railroad Corporation, developed by Corbie Games
Relive the pioneering spirit of the Golden Age of Steam by establishing your own railroad empire across 19th century North America. Race against time, as well as the competition, to bring settlements together, produce and trade goods and develop new technologies.
Trailer: https://youtu.be/Da4dmc7yZMM
Release: November 2019
Platforms: PC (Windows)
Headsnatchers, developed by IguanaBee
Hold onto your head with Headsnatchers, a stupidly hectic up-to-4-player local and online multiplayer party-game where you snatch your friends' heads to come out victorious. Because, let's face it, you'll do anything to win.
Release: 7 November 2019
Platforms: Nintendo Switch, PC (Windows)
Coming Soon to PlayStation 4
Still There, developed by GhostShark Games
Every day is the same on the faraway Bento space-lighthouse - until a mysterious radio message breaks through. Evade the past, welcome oblivion, make the perfect Italian coffee. Still There is a psychological adventure game about grief, technical puzzles, wacky AIs and dark humour. How far is far enough?
Trailer: https://youtu.be/SNG21jBgRhM
Release: 20 November 2019
Platforms: Nintendo Switch, PC (Windows, Mac)
Antigraviator, developed by Cybernetic Walrus
Antigraviator is a sleek new take on the anti-gravity racing genre. Use traps, power-ups and boosts to overtake your opponents and dominate the track in single player or multiplayer mode. With no speed limit holding you back, Antigraviator delivers the fastest racing experience of the future.
Trailer: https://www.youtube.com/watch?v=VqvJyg0ae2A
Release: Available Now
Platforms: PlayStation 4, PC (Windows)
Coming Soon to Xbox One
Circle Empires Rivals, developed by Luminous
In this fast-paced multiplayer RTS, you and your friends will take control of your own tiny kingdoms and conquer a world made of circles. Each one is overflowing with enemies to fight, monsters to hunt and loot to horde – but watch out... Friends can quickly become rivals!
Trailer: https://youtu.be/dGxPcyrikmM
Release: Early 2020
Platforms: PC (Windows)
Lunacy: Saint Rhodes, developed by Lazarus Studio
Explore your dark family history in Lunacy: Saint Rhodes, a first-person survival horror game where every decision you make changes the course of the game. You are being watched; never alone, never safe.
Release: 2020
Platforms: PC (Windows)
Transient, developed by Stormling Studios
H.P. Lovecraft meets Cyberpunk. Delve deep into an obscure dystopian world and hold firm to your consciousness, when you stumble upon the terrifying truth about your life in a domed city, a truth that might tear apart your own sanity and question your very existence.
Trailer: https://www.youtube.com/watch?v=BRr6gJ2Z2rI
Release: Late 2020
Platforms: PlayStation 4, Xbox One, PC (Windows)
Gas Guzzlers Extreme, developed by Gamepires
Gas Guzzlers Extreme is a fast, furious, armed-to-the-teeth, trigger-happy shooter, shifted into top gear! Take a white knuckle ride in this crazily addictive combat racing game.
Release: November 2019
Platforms: PlayStation 4 (Available Now on Xbox One & PC)
Shortest Trip to Earth: Supporters Pack DLC, developed by Interactive Fate
This first DLC for Shortest Trip to Earth adds a new playable ship - The Battle Tiger - with unique crew, drones, pets, perks, modules and nukes. The Supporters Pack also gives you a copy of the "Shortest Trip Sketchbook Scribbles" digital collection, the game's official soundtrack album featuring over an hour of original music and even more content in 2020 at no extra cost!
Release: Available Now
Platforms: PC (Windows)
Pax Nova, developed by Grey Wolf Entertainment
A sci-fi turn-based 4X strategy game where you lead the fate of one of several factions divided between three races. Explore new worlds and new star systems filled with exciting secrets as well as new dangers. Build new cities, expand your influence and fight great battles on land and in space.
Release: Early 2020
Platforms: PC (Windows)
The Sojourn, developed by Shifting Tides
A tale of light, darkness, and the nature of reality. Traverse a thought-provoking puzzle game and its immersive colour-drenched world of light and shadow.
Trailer: https://www.youtube.com/watch?v=xBeDC0DXySU
Release: Available Now
Platforms: PlayStation 4, Xbox One, PC (Windows)
--
ABOUT ICEBERG INTERACTIVE
Iceberg Interactive is an independent video game publisher founded in 2009 by an international group of games industry veterans. Located in Haarlem, The Netherlands and staffed with avid gamers, Iceberg works closely with an assembly of game developers around the world, both midsize and indie.
Known for many hit franchises including Starpoint Gemini, Killing Floor and Stardrive; the company has enjoyed recent success with titles such as Starpoint Gemini Warlords, Oriental Empires, Shortest Trip to Earth, Circle Empires and The Sojourn. Iceberg Interactive has many exciting multi-format games coming up, including Antigraviator (XBO), Headsnatchers (PC/PS4/Nintendo Switch), Still There (PC/Nintendo Switch), Transient (PC/PS4/XBO) and Gas Guzzlers Extreme (PS4). Several promising PC games are also coming together nicely in Steam's Early Access program: Pax Nova and Railroad Corporation.