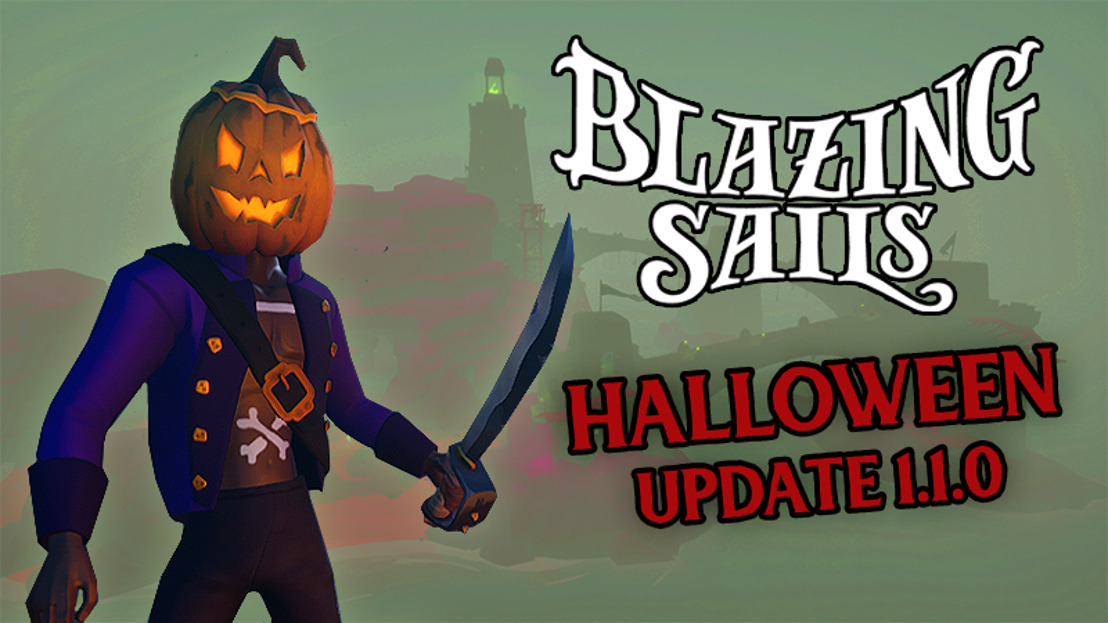 PC Multiplayer Games Blazing Sails & Circle Empires Rivals Release Scary NEW Content This Halloween!
Free Themed Updates Out NOW!
Not one but TWO spooky free updates have just been released for two of 2020's most exciting multiplayer games on Steam: Blazing Sails & Circle Empires Rivals!
Kraken Keep is the first major update to Blazing Sails since it launched into Early Access. Explore a huge new island that's actually alive! Thick fog envelops the map night and day, making battles at sea even more tense. Work as a team to win matches and unlock creepy exclusive cosmetics for your character!
Check it all out in the NEW trailer here:
Create your own unique pirate and ship. Band together with other players to command your mighty vessel. Navigate land and sea for loot, resources, unique weapons and ship upgrades. Sink every other ship to win the skirmish!
Fast-paced RTS Circle Empires Rivals already has pumpkins that spring to life, spooky skeletons, creepy crawlies, and all the other Halloween classics! But, the developers have thrown in one more to celebrate the season: Pink Goo!
Pink Goo might look like delicious strawberry frosting, but it can be deadly to traverse with the wrong units. It slows units that walk across it, more so than water biomes.
The follow-up to what Kotaku described as "one of the few games in this big tent of a genre that really does seem to do something new" - Circle Empires Rivals does it again and introduces co-op and competitive PvP multiplayer modes, alongside a huge amount of new single-player content.
Both titles are available now on PC via Steam - and you can check out all our games on the Iceberg Interactive publisher page!
The press kit for Blazing Sails: Pirate Battle Royale can be found here.
The press kit for Circle Empires Rivals can be found here.
Don't be a stranger! Stay up to date with Blazing Sails here: Website / Twitter / Facebook / YouTube / Discord
Stay up to date with Circle Empires Rivals here: Discord, Steam, Twitter, Facebook, YouTube, Twitch
ABOUT GET UP GAMES
Get Up Games is an independent game studio based in Waarschoot, Belgium. By being gamers themselves, researching games and modifying them, all 5 members are true experts in their craft. By combining knowhow, technical skills and creative thinking Get Up Games is all about making long lasting great gameplay that everyone can enjoy.
ABOUT LUMINOUS
Luminous is an Estonian indie game company founded by developer Mihkel Trei. He's been developing games since 2002 and got the idea of Circle Empires from a famous graphic designer who said "Always start a design by drawing a circle".
In 2016, Luminous partnered with Edvin Aedma, a developer on the Estonian indie hit Teleglitch: Die More Edition. Together, they decided to involve two more Estonian indie dev companies run by Edvin: Interactive Fate, to create a complete overhaul of all Circle Empires graphics, and Playtest Games, to ensure smooth production of the entire project. In August 2018 the first Circle Empires game came out and was wildly successful. It received Apex Monsters DLC in the following months. In 2019 Luminous started working on the multiplayer sequel Circle Empires Rivals.
ABOUT ICEBERG INTERACTIVE
Iceberg Interactive is an independent video game publisher founded in 2009 by an international group of games industry veterans. Located in Haarlem, The Netherlands and staffed with avid gamers, Iceberg works closely with an assembly of game developers around the world, both midsize and indie.
Known for many hit franchises including Starpoint Gemini, Killing Floor and Circle Empires; the company has enjoyed recent success with PC titles such as Shortest Trip to Earth, The Sojourn and Railroad Corporation. Iceberg Interactive has many exciting multi-format games coming up, including Transient (PC/XBO/PS4), Star Dynasties (PC) and Blazing Sails (PC).
To learn more, please visit www.iceberg-games.com.