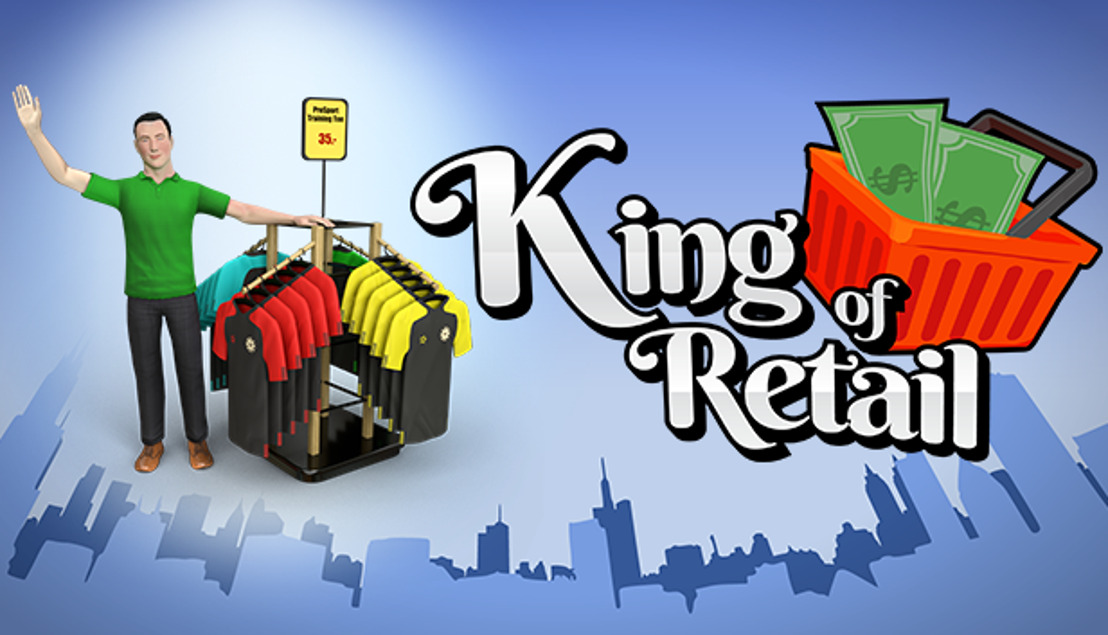 PC Management Sim King of Retail Goes Into Business With Iceberg Interactive
Publisher Will Bring the Game from Early Access to Full Release in 2022
Publisher Iceberg Interactive and developer Freaking Games are excited to announce they are going into business together on King of Retail! The Dutch indie label has added the store-management simulator to their impressive catalog on Steam, and will assist to give the game a visual overhaul and bring the title out of Early Access in 2022.
First released into Early Access for Windows PC in March 2019, King of Retail already boasts an impressive 91% approval rating, and has been enjoyed by YouTubers such as Paluten, GrayStillPlays and Let's Game It Out so far.
To celebrate the new partnership, King of Retail is currently 25% off in a weeklong sale on Steam!
King of Retail is a management simulation game. As the owner of a new store, you've got to make the right decisions to bring in the big bucks! Can you handle the pressure, or will you fail miserably?
The game offers a deep simulation of the retail experience. You'll design your layout, order and sort new stock, hire new staff and win repeat customers. From fashion to food and even electronics - finally you can bring your dream store to life! Why not even build a corporation from scratch and conquer the city? Run multiple stores! Expand your HQ and manage it all as a CEO!
Speaking of CEOs - Iceberg Interactive CEO Erik Schreuder remarked:
King of Retail surprised me with a unique spin on the strategy and management genre. Running a shop is a core fantasy for most people - it's one of the first things kids pretend to do when they start to play on their own. This game has a lot of depth and complexity, but at its heart I think it works because it speaks to that inner child in all of us.
He continued:
We see a lot of potential in King of Retail, which has already built up a fantastic community of fans since 2019, and our role now is to support that and attract even more players. We have over ten years of experience launching games in retail and digital stores, including a lot of Early Access titles, so we know what steps we need to take to ensure this game is another success. As a solo dev, we don't want to rush Daniel - which is why our plan is to work on the game continuously until a full release in 2022.
FEATURES
Choose the direction of your store! Should it be a Shoe Store for the fashionable type, an Electronics Store for your everyday needs, or a giant Hypermarket that sells a bit of everything?

Control the inventory! Select and order your goods, prepare delivery and storage, set up in-store displays and foster healthy relationships with your suppliers!

Get people inside your store! A good marketing scheme, along with happy customers will work wonders for your income. But don't oversell your idea. Nothing ruins a store quicker than unhappy customers.

Manage your personnel! When you have too much on your plate to handle yourself, it might be the time for you to get some staff. Conduct interviews, negotiate salaries and hire people.
Art, videos and more are available in our Press Kit here!
Stay up to date with King of Retail here:
Website, Discord, Facebook, Twitter, Youtube
ABOUT FREAKING GAMES
Freaking Games is a Danish single person indie studio, founded in 2018 by Daniel Fjordhøj. His first game will be King of Retail, a detailed store management simulation. Daniel studied physics at the University of Copenhagen, but switched to the Technical University of Denmark to fulfil his dream of creating a video game based on his previous experience as a store manager. He hopes to create more management games in the future.
ABOUT ICEBERG INTERACTIVE
Iceberg Interactive is an independent video game publisher founded in 2009 by an international group of games industry veterans. Located in Haarlem, The Netherlands and staffed with avid gamers, Iceberg works closely with an assembly of game developers around the world, both midsize and indie.
Known for many hit franchises including Starpoint Gemini, Killing Floor and Circle Empires; the company has enjoyed recent success with PC titles such as Shortest Trip to Earth, The Sojourn and Railroad Corporation. Iceberg Interactive has many exciting multi-format games coming up, including Transient (PC/XBO/PS4), Star Dynasties (PC) and Blazing Sails (PC).
To learn more, please visit www.iceberg-games.com.