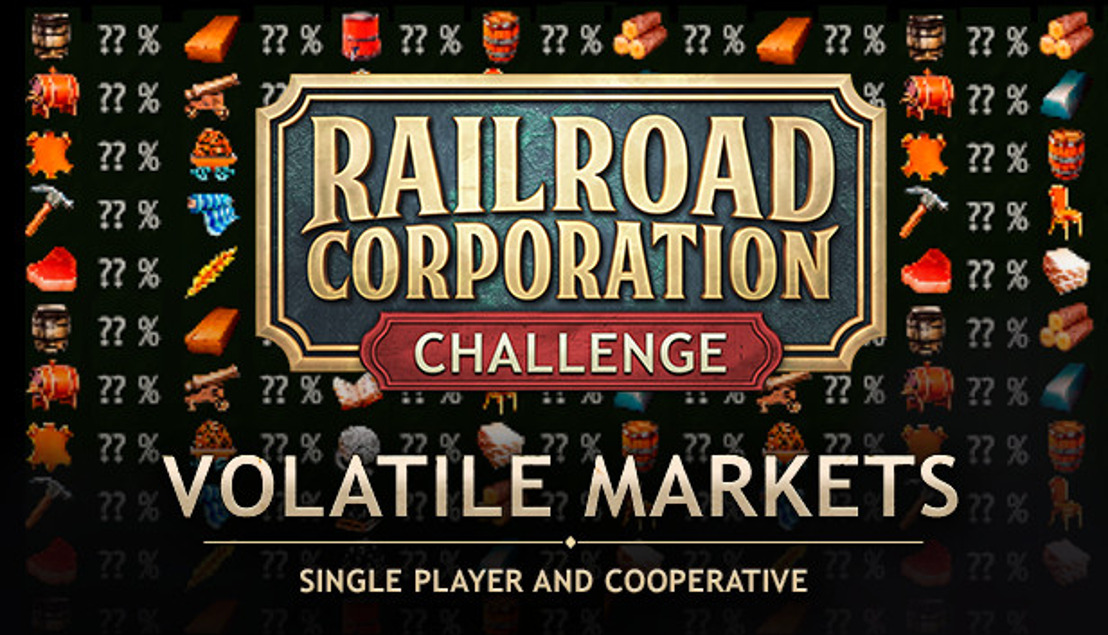 Out Today! New DLC for Train Tycoon Sim Railroad Corporation
New Volatile Markets Challenge for Solo & Co-Op Plus Complete Collection!
Indie publisher Iceberg Interactive and developer Corbie Games are excited to release today the next Railroad Corporation DLC - Volatile Markets for $4.99 with a limited time 10% launch discount.
A group of investors have funded the launch of various plants and factories in 19th century North America, but they require your railroad corporation to provide the crucial raw materials.
You will be paid for each delivery, however, it is necessary to take into account that it is a free market. Prices for raw materials and finished products can fluctuate, and it may be necessary to act accordingly.
The Volatile Markets challenge can be played in single-player or in cooperative mode - invite a friend to attempt this challenge with you, as it is always better to have a reliable partner in business.
In addition, from today you can purchase the Railroad Corporation Collection on Steam - which offers the base game together all previous paid and free DLCs for 20% cheaper than buying them alone!
Check out the trailer for Railroad Corporation below and the press kit here.
About Railroad Corporation
Relive the pioneering spirit of the Golden Age of Steam by establishing your own railroad empire across 19th century North America. Race against time to bring settlements together, produce and trade goods and develop new technologies.
Embark on your dream career and earn your fortune in the New World. Work to fulfil contracts and complete missions based on historic rail networks across the United States. Lay down tracks, dig tunnels and raise bridges to connect settlements big and small, old and new. Strategy and forward planning are essential to make the best deals – so you'll need to be across every aspect of your organisation. Control and combine resources, establish new industries and even lobby politicians to change the law of the land.
Key Features:
Establish a profitable Railroad Corporation in the Golden Age of Steam

Engage in political lobbying and research new technologies

Expand your operations with new departments, recruit employees and manage business loans

Buy, control and maintain historically accurate locomotives and rolling stock.
Keep up to date with Railroad Corporation:
Official Website, Facebook, Twitter, YouTube, Discord
ABOUT ICEBERG INTERACTIVE
Iceberg Interactive is an independent video game publisher founded in 2009 by an international group of games industry veterans. Located in Haarlem, The Netherlands and staffed with avid gamers, Iceberg works closely with an assembly of game developers around the world, both midsize and indie.
Known for many hit franchises including Starpoint Gemini, Killing Floor and Stardrive; the company has enjoyed recent success with PC titles such as Shortest Trip to Earth, Circle Empires Rivals and The Sojourn.Iceberg Interactive has many exciting games coming up, including Transient (PC/PS4/XBO), Star Dynasties (PC) and Blazing Sails (PC).
To learn more, please visit www.iceberg-games.com.