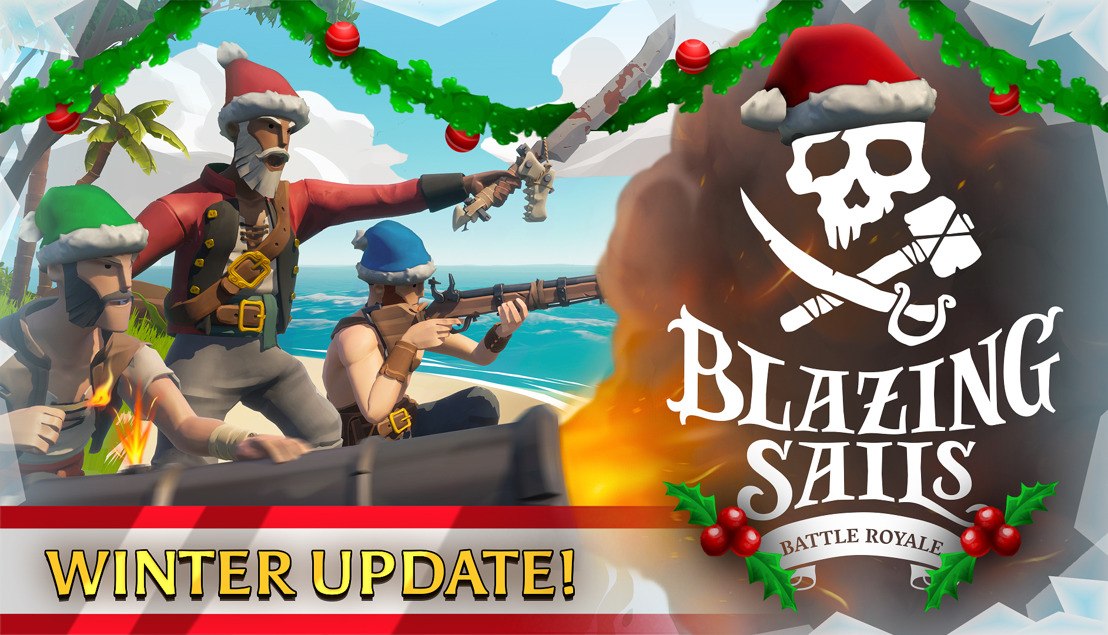 New Winter Update & Trailer for Our Biggest Game Ever on Twitch: Blazing Sails - Pirate Battle Royale!
Over 1.7 MILLION Hours Watched on Twitch in 2020 - Over Two Thousand Streamers!
The holidays are upon us and Pirate Battle Royale Blazing Sails continues to advance along its Early Access roadmap on Steam! Next stop? The Icy Caverns Update!
A new ship, new island and new cosmetics - check it all out in our brand-new trailer!
Explore the Icy Caverns together with ye maties while ye take the wheel of your mighty new vessel, the Junk Ship! Agile and fast, the Junk Ship can be manned by up to three pirates. Catch the wind in the right direction and ye'll be more slippery than a greased-up eel! It also allows ye to go full speed ahead and still fire with its front-facing cannon!
Fine feathers make a fine bird so make sure ye dress up for your next plunder with an assortment of festive cosmetics.
The Icy Caverns is the 2nd major update to Blazing Sails after it launched into Early Access in September.
Since then, the game has become publisher Iceberg Interactive's greatest-ever hit on Twitch. Some of the biggest names on the platform including alanzoka, LIRIK and Elraenn have led a charge that's seen more than 1.7 MILLION hours of pirate action watched in 2020!
---
"A swashbuckler showdown the likes of which no other battle royale has ever delivered" - The Escapist
"It's like Sea of Thieves Arena had a child with Totally Accurate Battle Simulator and Apex Legends" - Captain Falcore
"The wind is really in its sails on Twitch" - PCGamesN
"Adopts many of the mechanics and the look of Sea of Thieves, but transplants them into a battle royale" - IGN
"Blazing Sails is a delightful, fun pirate adventure that has its sails pointed in the right direction" - Screen Rant
---
Blazing Sails is available now in Early Access on PC via Steam for $14.99 - and you can check out all our games on the Iceberg Interactive publisher page!
The press kit for Blazing Sails: Pirate Battle Royale can be found here.
If you're a member of the press or a content creator, you can apply for your own key now on Keymailer here.
Don't be a stranger! Stay up to date with Blazing Sails here:
Website / Twitter / Facebook / YouTube / Discord
ABOUT GET UP GAMES
Get Up Games is an independent game studio based in Waarschoot, Belgium. By being gamers themselves, researching games and modifying them, all 5 members are true experts in their craft. By combining knowhow, technical skills and creative thinking Get Up Games is all about making long lasting great gameplay that everyone can enjoy.
ABOUT ICEBERG INTERACTIVE
Iceberg Interactive is an independent video game publisher founded in 2009 by an international group of games industry veterans. Located in Haarlem, The Netherlands and staffed with avid gamers, Iceberg works closely with an assembly of game developers around the world, both midsize and indie.
Known for many hit franchises including Starpoint Gemini, Killing Floor and Circle Empires; the company has enjoyed recent success with PC titles such as Shortest Trip to Earth, The Sojourn and Railroad Corporation. Iceberg Interactive has many exciting multi-format games coming up, including Transient (XBO/PS4), Star Dynasties (PC) and Sacred Fire (PC).
To learn more, please visit www.iceberg-games.com.