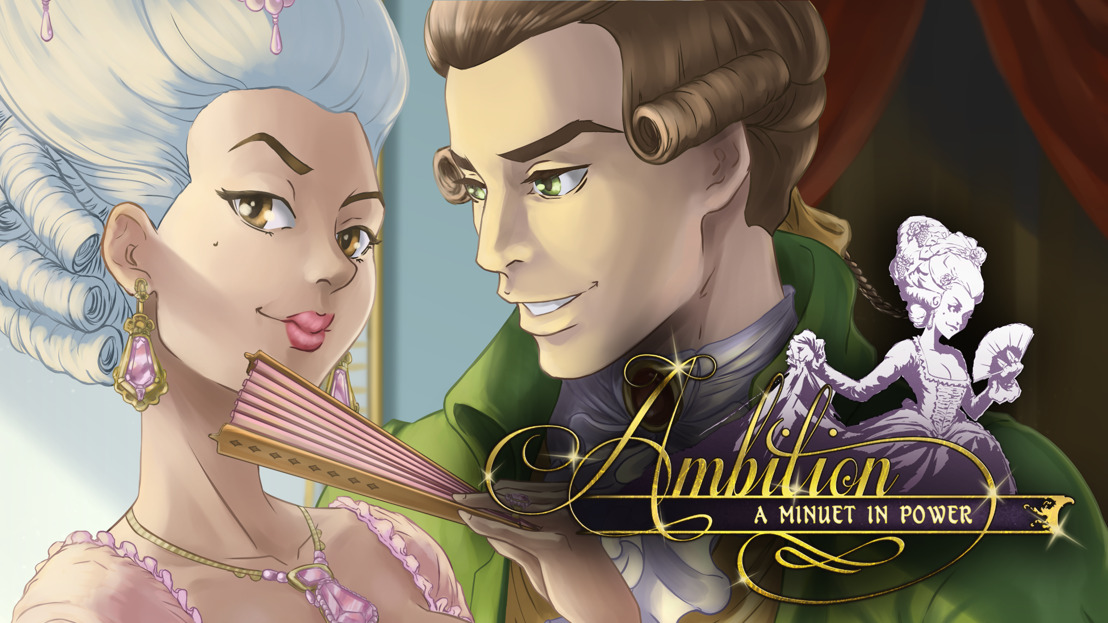 Iceberg Signs Diplomatic Dating Sim Ambition: A Minuet in Power
A "Revolutionary" Visual Novel Coming to Steam in 2021
Publisher Iceberg Interactive has jumped into bed with the developers at Joy Manufacturing Co. to bring Ambition: A Minuet in Power to players on PC via Steam later this year!
Welcome to 18th century Paris - a city of love, lies and revolution. You are a woman of fashion trying to survive the political turmoil. Date a cast of unforgettable characters. Amass the wealth and respect you deserve. Engage in gossip that can alter the course of history, or lead you to the guillotine.
Ambition: A Minuet in Power is an intriguing visual novel brought to life by an original score from GANG award-winning composer John Robert Matz, best known for his work on Gunpoint and For the King. To celebrate this announcement, we're excited to share a new, unreleased preview from the upcoming soundtrack album:

Ambition: A Minuet in Power will be available later in 2021 on PC via Steam. Check out the Story Trailer here:
A Cast Of Unforgettable Characters
Fall in love with a sprawling cast of fully realized characters. Enjoy the company and learn the secret histories of mysterious priests, wronged soldiers, wealthy widows, and more! Don't worry, if you're discreet, you won't have to pick just one.
Explore A Living, Scheming World
Use your calendar to plan your commitments each week in Paris, and more importantly, who you do them with. In a city marching towards revolution, time is of the essence, and your enemies have agendas of their own!
Love Is Power
Ensnare the hearts of Parisian nobles and use their influence to your advantage. Change the outcome of political events, snub your rivals, and be lavished with expensive gifts. Turn gossip into profit by selling the secrets you learn, but be careful! Your own credibility and security are also at stake. The choices you make can yield great rewards and change the course of the story, but dire consequences could arise if you're caught!
The press kit for Ambition: A Minuet in Power can be found here.
Don't be a stranger! Stay up to date with Ambition here:
Website / Twitter / Facebook / YouTube / Discord
Check out all our games on the Iceberg Interactive publisher page!
ABOUT JOY MANUFACTURING CO.
Above all, our team at the Joy Manufacturing Co. is about making unique games. We want to make games that are different, engaging and that we, as a team, are actually proud of. We aim to delight our players, and tell stories that aren't being told anywhere else.
Based mainly in the San Francisco Bay Area, our core team is currently composed of three people with over 30 combined years of professional games industry experience. We've worked on a variety of titles, covering everything from mobile and social games, to console releases.
ABOUT ICEBERG INTERACTIVE
Iceberg Interactive is an independent video game publisher founded in 2009 by an international group of games industry veterans. Located in Haarlem, The Netherlands and staffed with avid gamers, Iceberg works closely with an assembly of game developers around the world, both midsize and indie.
Known for many hit franchises including Starpoint Gemini, Killing Floor and Circle Empires; the company has enjoyed recent success with PC titles such as Shortest Trip to Earth, The Sojourn and Railroad Corporation. Iceberg Interactive has many exciting multi-format games coming up, including Blazing Sails (PC), Star Dynasties (PC) and Sacred Fire (PC).
To learn more, please visit www.iceberg-games.com.