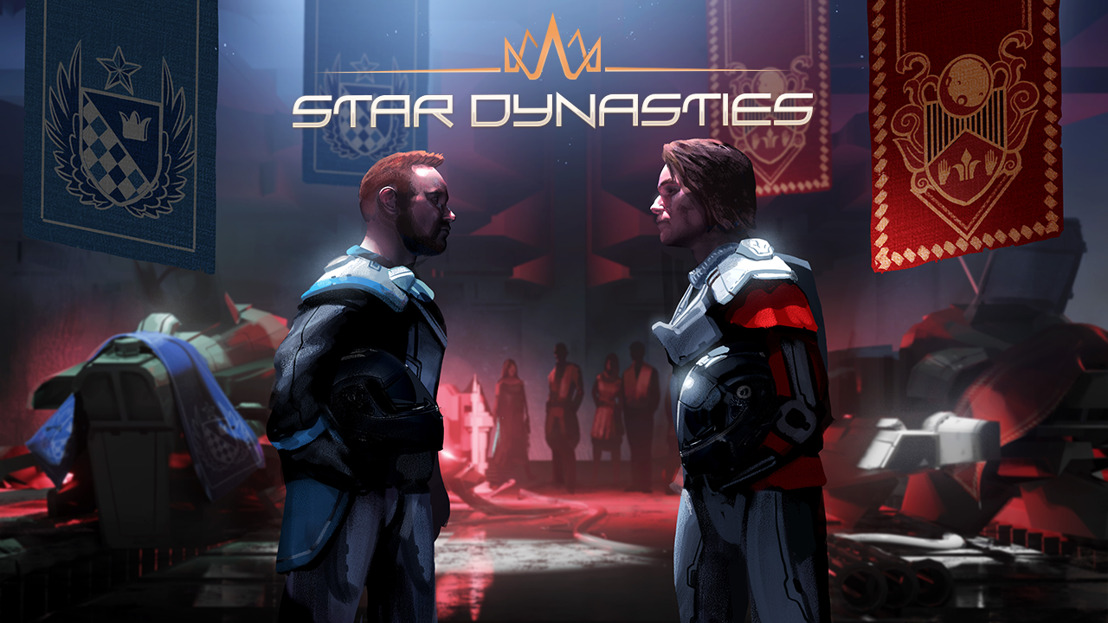 Free PC Demo for Anticipated Space Strategy Star Dynasties at IndieCade
Free Demo and Developers Live Stream for Star Dynasties This Week!
Get a sneak peek of the upcoming Space Strategy game Star Dynasties at IndieCade this week in a free demo! Star Dynasties is a sci-fi narrative game set in a regressive future of feudal politics - think Game of Thrones but across the galaxy.
Running through October 16th-24th, IndieCade boasts a jam packed line up of 50 games and 200 hours worth of streams - plus demos, panels, talks and much more!
Star Dynasties is nominated for a whole host of awards, including the Grand Jury Award, Jury Prix, Innovation in Experience Design, Innovation in Interaction Design and a special spotlight award category: Procedural.
Check out the official Star Dynasties digital booth, where on Monday you can find a panel talk with the developer Glen Pawley, then on Wednesday we'll be doing a Q&A live stream.
Not enough Star Dynasties for you? Well, ahead of the release in 2021 we're on the look out for beta testers! Join the Iceberg Interactive Discord page if you're interested!
Star Dynasties is a sci-fi strategy game set in a divided galaxy following the destruction of Earth - plunging humanity into a new Dark Age. Centuries later, the few surviving colonies have stabilized into a feudal society. The game mixes a light empire management strategy layer with a unique procedurally generated narrative of human drama and feudal politics, where your choices will define your story.
As the leader of a faction of star systems, you must ensure the survival and prosperity of your dynasty at any cost. Expand your empire, herd your unruly vassals, build political alliances, and navigate a web of agendas, political intrigue, and social obligations to emerge as the dominant power of the galaxy.
Features
Take on the role of the head of a political family through multiple generations, and lead it to dominance over the remnants of human civilization

Experience an emergent narrative of personal and political drama

Uphold the traditions and laws of society and earn a reputation for honour, or seize power and risk turning the galaxy against you

Interact with hundreds of characters with realistic personalities, emotions, and relationships

Punish those that have wronged you, and reward your allies
Art, videos and more are available in our Press Kit here!
Stay up to date with Star Dynasties here:
Website, Discord, Facebook, Twitter, Youtube
ABOUT PAWLEY GAMES
Pawley Games is a UK based indie game development studio founded by developer Glen Pawley, that aims to craft engaging experiences based on the emergent behavior of complex simulations. The studio is working on its first release, the procedural narrative strategy game Star Dynasties.
ABOUT ICEBERG INTERACTIVE
Iceberg Interactive is an independent video game publisher founded in 2009 by an international group of games industry veterans. Located in Haarlem, The Netherlands and staffed with avid gamers, Iceberg works closely with an assembly of game developers around the world, both midsize and indie.
Known for many hit franchises including Starpoint Gemini, Killing Floor and Stardrive; the company has enjoyed recent success with PC titles such as Shortest Trip to Earth, The Sojourn and Circle Empires Rivals. Iceberg Interactive has many exciting multi-format games coming up, including Transient (PC/XBO/PS4), Lunacy: Saint Rhodes (PC) and Blazing Sails (PC).
To learn more, please visit www.iceberg-games.com.