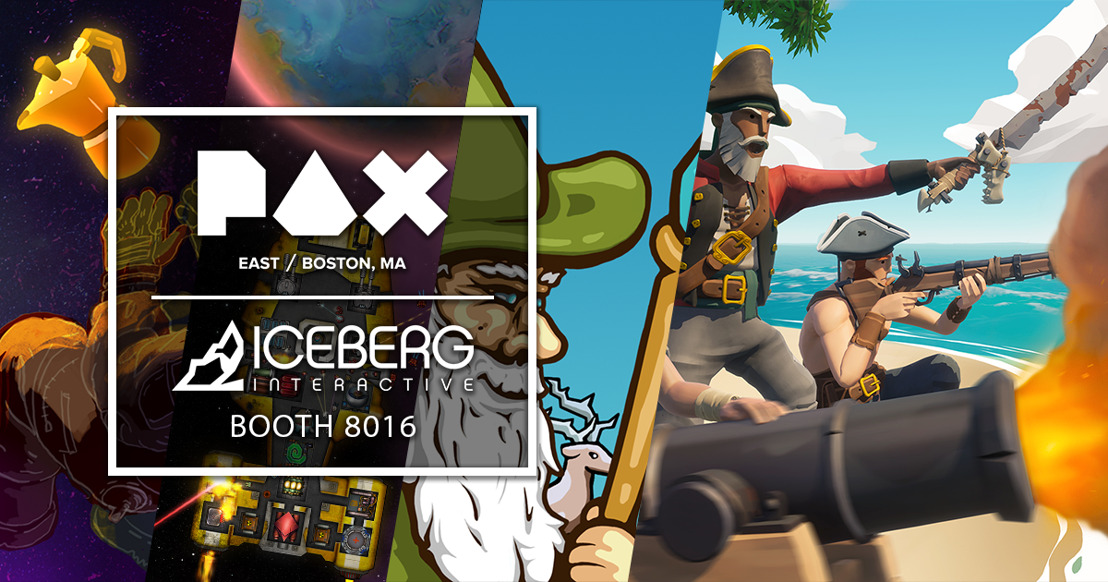 🏴‍☠️Pirate Battle Royale & More to Play at PAX East 2020!🌊
Pre-book your time on the Iceberg Interactive booth in Boston!
Ahoy Buckos! Avast! Iceberg Interactive has let fly the Jolly Roger and set course for Boston - it's PAX East 2020! Arrgh! Skulduggery lies ahead, courtesy of the motley crew from Get Up Games and their upcoming Pirate Battle Royale: Blazing Sails!
Man the cannons for 3v3 team-based action as you sail, swim and survive in this fast-paced multiplayer experience! Bring along ye mateys and weigh anchor for Booth 8016, where ye will also find more games to plunder – Still There, Shortest Trip to Earth and Circle Empires Rivals! Shiver me timbers!
For Press & Content Creators, video capture is permitted for all 4 games, and if ye be searchin' fer interviews, the developers of Blazing Sails will be at yer service!
Arr! So ye better respond smartly to confirm yer appointment for February 28-March 1, else ye be marooned from the fun, savvy? Yo-Ho!
*cough* Sorry, something came over me there. To sum up...
Indie Publisher Iceberg Interactive is going to PAX East 2020 in Boston, February 28-March 1!

You (and up to 5 friends!) can play our team-based Pirate Battle Royale; Blazing Sails! Coming in 2020 to PC on Steam!

AND you can play Shortest Trip to Earth, Still There & Circle Empires Rivals!

We're at Booth 8016!

Content Creator? Press? You're allowed to capture footage of all the games!

The developers of Blazing Sails are available for on-camera interviews!

Email chris [at] iceberg-games.com to book appointments!
Circle Empires Rivals (PC, Coming Early 2020): In this fast-paced multiplayer RTS, you and your friends will take control of your own tiny kingdoms and conquer a world made of circles. Each one is overflowing with enemies to fight, monsters to hunt and loot to horde – but watch out... Friends can quickly become rivals!
Shortest Trip to Earth (PC, Available Now): A rogue-like spaceship simulator focused on exploration, ship management and tactical battles. Embark on a perilous journey across the universe with an armed crew, nuclear missiles and a cat.
Still There (PC/Nintendo Switch, Available Now): Every day is the same on the faraway Bento space-lighthouse - until a mysterious radio message breaks through. Evade the past, welcome oblivion, make the perfect Italian coffee. Still There is a psychological adventure game about grief, technical puzzles, wacky AIs and dark humour. How far is far enough?
To learn more, please visit www.iceberg-games.com.
Iceberg Interactive
pr@iceberg-games.com / +31 (0)23 54 30 960
Belgiëlaan 63G, 2034 AW, Haarlem, The Netherlands