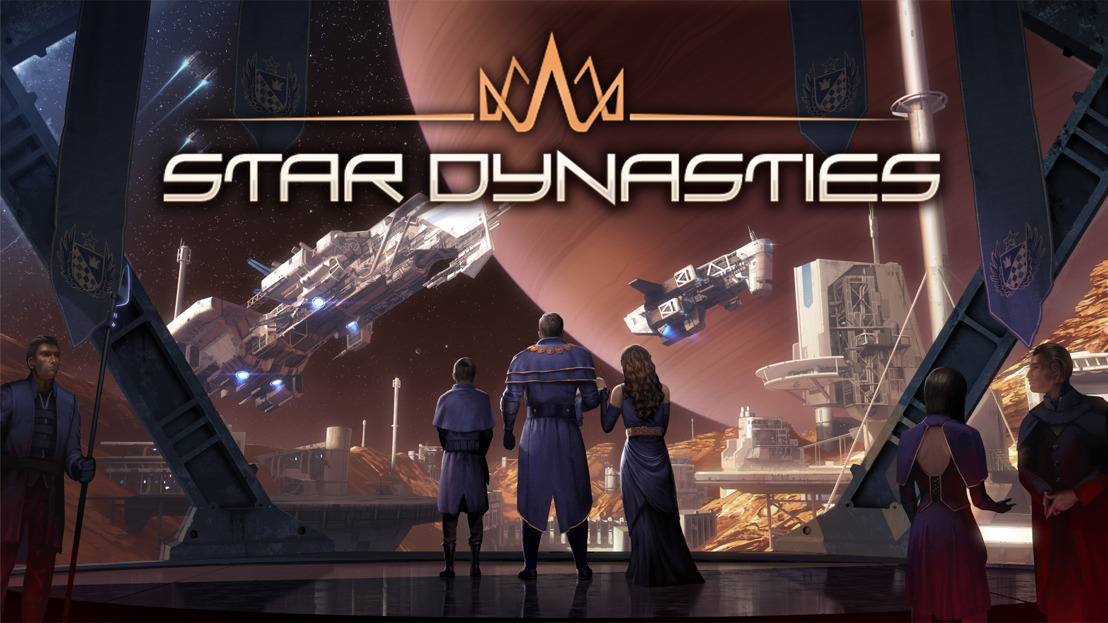 Epic strategy game "Star Dynasties" announced
Publisher Iceberg Interactive and developer Pawley Games are excited to announce their collaboration on upcoming strategy game Star Dynasties.
Channel your inner Lannister and rule over your scattered space empire while trying to balance family dramas, political intrigue and military conflict.
Star Dynasties will be available for PC early 2021.
You can catch the interview with developer Glen Pawley to get a closer look into the feudal space opera that awaits you:
Star Dynasties is a sci-fi strategy game set in a divided galaxy following the destruction of Earth. The game mixes a light empire management strategy layer with a unique procedurally generated narrative of human drama and feudal politics, where your choices will define your story.
Humanity had just taken its first tentative steps in space, when the catastrophic destruction of Earth plunged the galaxy into a new Dark Age. Now, centuries later, those few surviving colonies have stabilised into a simple feudal society, unable to comprehend or advance the technological artefacts they use to survive. Internecine fights between an aristocratic elite decide the fate of the scattered fragments of humankind.
As the leader of a faction of star systems, you must ensure the survival and prosperity of your dynasty at any cost. Expand your empire, herd your unruly vassals, build political alliances, and navigate a web of agendas, political intrigue and social obligations to emerge as the dominant power of the galaxy.
Features
Take on the role of the head of a political family through multiple generations, and lead it to dominance over the remnants of human civilization

Experience an emergent narrative of personal and political drama

Uphold the traditions and laws of society and earn a reputation for honour, or seize power and risk turning the galaxy against you

Interact with hundreds of characters with realistic personalities, emotions, and relationships

Punish those that have wronged you, and reward your allies
You can check out the Press Kit for all additional game assets.
For all media requests, including your addition to the game's waiting list for review keys, please reply to this email.
Stay up-to-date with Star Dynasties and Iceberg Interactive
Website / Twitter / Facebook / YouTube / Discord
ABOUT PAWLEY GAMES
Pawley Games is a UK based indie game development studio founded by developer Glen Pawley, that aims to craft engaging experiences based on the emergent behavior of complex simulations. The studio is working on its first release, the procedural narrative strategy game Star Dynasties.
ABOUT ICEBERG INTERACTIVE
Iceberg Interactive is an independent video game publisher founded in 2009 by an international group of games industry veterans. Located in Haarlem, The Netherlands and staffed with avid gamers, Iceberg works closely with an assembly of game developers around the world, both midsize and indie.
Known for many hit franchises including Starpoint Gemini, Killing Floor and Stardrive; the company has enjoyed recent success with PC titles such as Starpoint Gemini Warlords, Oriental Empires, Shortest Trip to Earth, The Sojourn and Circle Empires. Iceberg Interactive has many exciting multi-format games coming up, including Transient (PC, PS4, XBO), Lunacy: Saint Rhodes (PC), Headsnatchers (PS4), Gas Guzzlers Extreme (PS4) and Blazing Sails (PC).
To learn more, please visit www.iceberg-games.com.