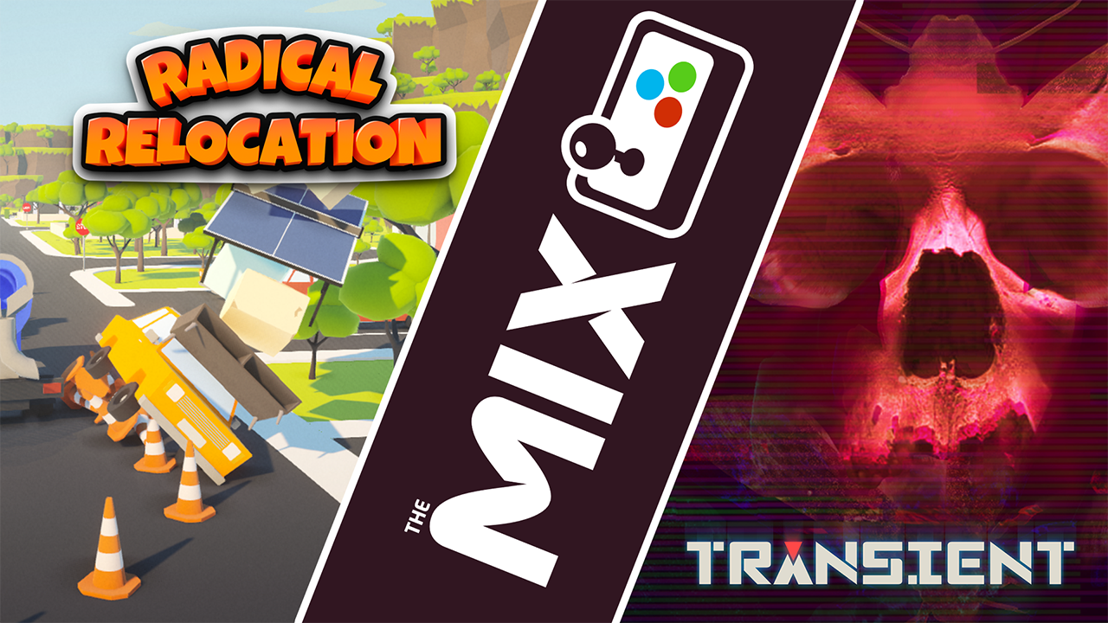 Cyberpunk Horror PC Release Date Revealed at The MIX NEXT for Transient
Plus a HUGE Free Update to Radical Relocation!
Publisher Iceberg Interactive and developer Stormling Studios have announced that their Lovecraftian/Cyberpunk Adventure Transient will launch for Windows PC on Steam in time for Halloween: Wednesday October 28th!
The announcement was made exclusively during The MIX NEXT with a new gameplay video. Featuring Dan Maher (Explosive Alan), the new video shows off the dystopian world, challenging puzzles and mysterious story players can expect to experience later this month.
Also during The MIX NEXT, developers Winglett Entertainment exclusively showed off a huge FREE update to physics-puzzle game Radical Relocation. A whole new world brings whole new challenges - an Arctic region where your only way to move is by helicopter!  Will you find your way home through the wind and fog?
The new update coincides with the release of Radical Relocation on GOG.com for $9.99.
The press kit for Transient can be found here.
Stay up to date with Transient here: Website / Twitter / Facebook / YouTube / Discord
The press kit for Radical Relocation can be found here.
Stay up to date with Radical Relocation here: Website/ Twitter / Facebook / YouTube / Discord
ABOUT STORMLING STUDIOS
Stormling Studios is an independent game developer founded by the creative minds behind critically acclaimed Lovecraftian titles Conarium and the Darkness Within series. They are dedicated to their never-ending pursuit of bringing unique narrative experiences to players worldwide. Currently, they are hard at work on the upcoming Lovecraftian Cyberpunk adventure game Transient.
ABOUT WINGLETT ENTERTAINMENT
Winglett Entertainment is a New Zealand-based indie game development team founded by developer Matthew Inglis and artist Gareth Spencer, which aims to create unique, fun, and memorable games. The team is currently working on its first major release, Radical Relocation, a challenging physics-based puzzler.
ABOUT ICEBERG INTERACTIVE
Iceberg Interactive is an independent video game publisher founded in 2009 by an international group of games industry veterans. Located in Haarlem, The Netherlands and staffed with avid gamers, Iceberg works closely with an assembly of game developers around the world, both midsize and indie.
Known for many hit franchises including Starpoint Gemini, Killing Floor and Stardrive; the company has enjoyed recent success with PC titles such as Shortest Trip to Earth, The Sojourn and Circle Empires Rivals. Iceberg Interactive has many exciting multi-format games coming up, including Transient (XBO/PS4), Star Dynasties (PC) and Blazing Sails (PC).
To learn more, please visit www.iceberg-games.com