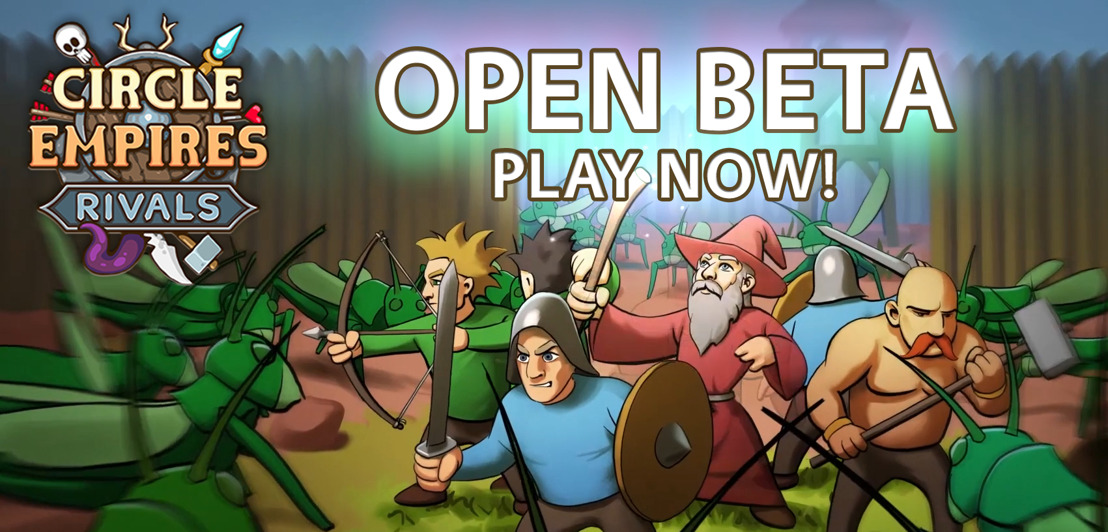 ⚔️🧙‍♂️Circle Empires Rivals Open Beta This Weekend!🏹🌍
🎃Online Multiplayer RTS Action Now on Steam!🌳
The time is NOW for Circle Empires Rivals' OPEN BETA WEEKEND! From 15:00 CET Thursday March 19th until Sunday March 22nd you can grab a key from our Discord and jump online for some FREE multiplayer Real-Time Strategy action!
You and your friends will take control of your own tiny kingdoms and conquer a world made of circles. Each one is overflowing with enemies to fight, monsters to hunt and loot to horde. Watch out though, as friends quickly turn to rivals…
If you've never played Circle Empires Rivals before, here's just a few things that you can expect:
Fast-paced RTS goodness

Tons of different units, biomes, and buildings

Co-op and PvP across multiple different game modes

25+ different faction leaders, ranging from Pumpkins to Dragons

Procedural generated maps that make each game feel different
And for those who've already tried Rivals, here's a couple of changes from last beta period:
A bunch of balance changes

Advanced match settings. Want more banks per circle? You got it!

You can now send resources to your allies in need, or to your opponents as psychological warfare.

To get into the action:
Navigate to the #claim-a-key channel.

Type .key -- not !key, not ?key, not key -- just .key

Activate your steam key by going to Games > Activate a Product on Steam

Have fun!
Note: if it doesn't work, you may have to enable "Allow direct messages from server members" in your Discord options. You can find this setting in Settings > Privacy & Safety.
And be sure to WISHLIST the game on Steam if you want to know as soon as it's available!
The press kit for Circle Empires Rivals can be found here.
Stay up to date with Circle Empires Rivals here:
Discord, Steam, Twitter, Facebook, YouTube, Twitch
ABOUT LUMINOUS
Luminous is an Estonian indie game company founded by developer Mihkel Trei. He's been developing games since 2002 and got the idea of Circle Empires from a famous graphic designer who said "Always start a design by drawing a circle".
In 2016, Luminous partnered with Edvin Aedma, a developer on the Estonian indie hit Teleglitch: Die More Edition. Together, they decided to involve two more Estonian indie dev companies run by Edvin: Interactive Fate, to create a complete overhaul of all Circle Empires graphics, and Playtest Games, to ensure smooth production of the entire project. In August 2018 the first Circle Empires game came out and was wildly successful. It received Apex Monsters DLC in the following months. In 2019 Luminous started working on the multiplayer sequel Circle Empires Rivals.
ABOUT ICEBERG INTERACTIVE
Iceberg Interactive is an independent video game publisher founded in 2009 by an international group of games industry veterans. Located in Haarlem, The Netherlands and staffed with avid gamers, Iceberg works closely with an assembly of game developers around the world, both midsize and indie.
Known for many hit franchises including Starpoint Gemini, Killing Floor and Stardrive; the company has enjoyed recent success with titles such as Shortest Trip to Earth, The Sojourn and Railroad Corporation. Iceberg Interactive has many exciting games coming up, including Blazing Sails (PC) Pax Nova (PC), Transient (PC, PS4, XBO), Lunacy: Saint Rhodes (PC) and Star Dynasties (PC).
To learn more, please visit www.iceberg-games.com
pr@iceberg-games.com / +31 (0)23 54 30 960
Belgiëlaan 63G, 2034 AW, Haarlem, The Netherlands