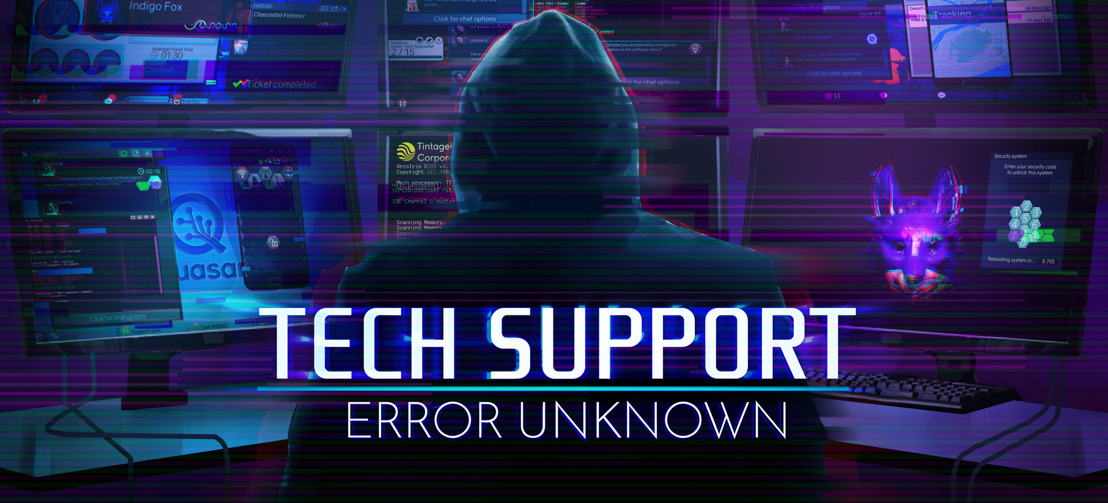 AWARD-WINNING ADVENTURE "TECH SUPPORT: ERROR UNKNOWN" OUT TODAY
Rebel or obey. The choice is yours.
Indie game publisher Iceberg Interactive and developer Dragon Slumber announce today the launch of story-driven adventure "Tech Support: Error Unknown" (Best Indie Pitch, MIGS 2018) on Steam and other digital retailers at an SRP of $9.99.
The game is available for Windows, Mac and Linux and to celebrate the release, there will be a 10% discount for the week of launch!
Tech Support: Error Unknown is a unique adventure game that recruits players as new-starters in the IT department of a large high-tech corporation. From a virtual desktop interface, you'll chat with customers and colleagues via an organic procedural dialogue system, solving puzzles, making discoveries and decisions that radically affect the branching narrative. Will you serve the company, or sabotage it from within?
The choice is yours.
In addition, Tech Support: Error Unknown will soon receive a free update: Endless Mode. Players will be able to fight to reach the top of the leaderboards, taking on 3 challenges at 2 difficulties;
Speed: Complete as many tickets as you can within 10 minutes.

Money: Earn a target amount of money as fast as possible through completing tickets.

Perfection: Complete as many tickets as you can, as fast as you can for a high score. First mistake ends the game.
Game developer Kevin Giguère from Dragon Slumber states:
"I am particularly proud of Tech Support, and the overwhelmingly positive response to the demo by the players has been wonderful. I'm confident that the full game will keep players coming back for more, and am excited to deliver exactly that in the coming weeks."
Iceberg Interactive CEO Erik Schreuder says:
"Tech Support is one of the smartest games that Iceberg is presenting this year. With numerous references to contemporary issues of privacy and ethics, Tech Support will hopefully speak to the players that seek an intriguing, challenging experience."
Supporting assets including trailers, screenshots and fact sheets are available via the Tech Support: Error Unknown Press Kit.
For media requests including developer interviews and review keys, please email nefeli@iceberg-games.com.
ABOUT DRAGON SLUMBER
Dragon Slumber is a Quebec-based indie studio founded in 2013 by Kevin Giguère, a programmer with over 20 years' experience. As of 2019, Dragon Slumber has released the award winning Tech Support: Error Unknown for PC, Mac and Linux, along with JRPG Arelite Core, and runner racer Astral Traveler for PC. Dragon Slumber believes that great games begin with careful and innovative designs and always strives to provide unique experiences for gamers.
Please visit https://www.dragonslumber.com for more information.
Website / Twitter / Facebook / Twitch
ABOUT ICEBERG INTERACTIVE
Iceberg Interactive is an independent video game publisher founded in 2009 by an international group of games industry veterans. Located in Haarlem, The Netherlands and staffed with avid gamers, Iceberg works closely with an assembly of game developers around the world, both midsize and indie.
Known for many hit franchises including Starpoint Gemini, Killing Floor and Stardrive; the company has enjoyed recent success with titles such as Starpoint Gemini Warlords (PC), Oriental Empires (PC) and Circle Empires (PC). Iceberg Interactive has many more exciting games coming soon, including Antigraviator (PS4/XBO), The Sojourn (PC/PS4/XBO), Headsnatchers (PC/PS4), Gas Guzzlers Extreme (PS4), Pax Nova (PC), and Railroad Corporation (PC).
To learn more, please visit www.iceberg-games.com.
Iceberg Interactive
pr@iceberg-games.com / +31 (0)23 54 30 960
Belgiëlaan 63G, 2034 AW, Haarlem, The Netherlands
Website / Twitter / Facebook / LinkedIn / YouTube / Instagram